If you're a fun-loving, proudly imperfect, radically authentic chick who adores the company of intelligent, witty, smart, ambitious, and genuine ladies, you MUST join our party. It'll be the best thing you do all year.

~ Lani Voivod, Epiphanies, Inc.
Proud member and WIW cheerleader
Women Inspiring Women brings women together to support, encourage and most importantly — INSPIRE — one another. WIW is the largest organization in New Hampshire providing tools and resources to aid women in reaching their potential. Regular events held across the Granite State include educational and motivational programs, business workshops and networking opportunities, as well as social programs and monthly teleclasses. Each fall WIW hosts the New Hampshire Conference for Women in Manchester, a day-long inspirational event for women of all ages and walks of life.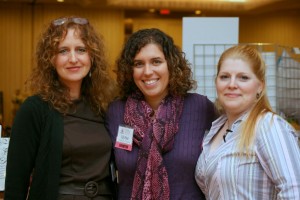 Join our group of dynamic women!
Membership in Women Inspiring Women is a gift to yourself. We are an enthusiastic group of professional women from across the Granite State who come together regularly for inspiration, education, and networking…plus a whole lot of fun!
Why join? As a member of WIW you will:
Be part of New Hampshire's largest organization for empowerment, motivation, personal development, professional resources, networking and fun!
Get inspired by new ideas, experiences and opportunities through interactions with women from diverse professions, cultures and different life stages.
Share your knowledge or receive guidance from like-minded people who have "been there" or by being a mentor to others.
Receive hugs instead of handshakes in an environment where everything is pink and festive! Plus all the super cool chicks belong to WIW!
---

Membership has its benefits and by joining WIW you will be able to take advantage of a suite of exclusive benefits that will help you connect, learn and save!
WIW member benefits include:
Discounted event registration fees for the NH Conference for Women and other events throughout the year.
Exclusive access to a private members-only Facebook group which has been named by many of our current members as "the best part of the entire membership experience."
Invitation to "Member Mingles" held at various locations throughout the state and other member-exclusive events.
Access to our Girl Talk Teleclass and library including recordings of past teleclasses.
Online directory listing at womeninspiring.com.
Member e-bulletin with early notification for upcoming events.
Ability to share your professional news with the WIW community and beyond in our monthly Member Happenings roundups.
Eligibility to host "Facebook Parties," to be included in WIW teleclasses and write blog posts for the WIW blog.
Opportunities to showcase your business, products or services with special rates on advertising and exhibiting at events.
30-minute complimentary mentoring session with WIW Founder and President Leslie Sturgeon to help you create a clear vision for your life, business or career.
Endless possibilities to network with our members, local community leaders, and business allies.
Annual Membership Investment: $85.00