A Note From Leslie Sturgeon, WIW Founder
I am the woman I am today because of the other women I met along my journey! Plain and simple truth. As a young 22-year-old entrepreneur, I knew that in order to succeed I needed to learn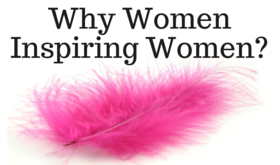 from those who blazed a trail before me, not just from my parents who were life-long business owners. It was 1989 when I started my first service business and in the small community of the Lakes Region there were really no professional organizations just for women. To hone my leadership skills and give back to the community that had given so much to me, I joined Altrusa International of Meredith. Much like Rotary, Kiwanis and Lions, this organization was focused on fundraising and providing service to the area residents in a multitude of ways. That was one of the best decisions of my life – and I continued this adventure for the next 20 years, including serving 6 years as President.
But I was still yearning for more. Informally I would tap into the wisdom of other professional women by asking them questions about career, business, life, productivity, mindset, communications, relationships and everything in between. I would observe them and how they conducted themselves (not in the stalking kind of way for the record!). I would attend industry events both regionally and nationally, Chamber functions, and community activities and soaked up as much knowledge as I could from others I perceived more successful and whom I admired (men and women). This was all before the internet and the explosion of personal and professional development resources. But deep in my soul I knew there needed to be something else.
Growing a niche business in a very bad economy in your 20's didn't seem like the right time for me to scratch the "there must be something better for women" itch so I put the thought aside, all while still continuing to overcome shyness and strengthen my leadership skills. Fast forward to 2007. I was attending an event and expressed to some women that my long-term goal would be to create an organization with the purpose of inspiring women to achieve their maximum potential. On the drive home, it occurred to me. THE TIME IS RIGHT. Why had I not seen that it was until that moment?! So over the next few months with literally a pen and pad of paper, I began doing a brain dump and it all started coming together.
Late May 2007 on the shores of Lake Winnipesaukee at Church Landing, 150 women gathered and Women Inspiring Women was launched. That day my life changed in the most amazing and beautiful way.
You have probably heard the quote "Behind every successful woman is a tribe of other successful women who have her back." Such a true statement. Occasionally a smarty pants will say to me, "Women getting together – ugh! Must be like a man bashing hen party." Absolutely not! When women come together they love, support, encourage, nurture and cheer each other on. Even if they are strangers at first. It is this mutual respect that has led Women Inspiring Women to become the largest women's organization in New Hampshire. When the right people come together – magic happens!
Thank you, ladies, for being uniquely you. Thank you for all you do for one another and for me (and WIW). And thank you for what you are doing for yourself – you are making yourself a priority with your quest for knowledge and connections with other like-minded women. You also give unselfishly of your wisdom so that others can succeed in life as well. There is no doubt we can move mountains – together!
If you haven't yet experienced the contagious enthusiasm of the WIW community, I invite you to check us out. The NH Conference for Women is the perfect place to learn and connect. Please join us and I am confident you will immediately feel that you have found a home!
---
Leslie Sturgeon is the founder of Women Inspiring Women and a lifelong entrepreneur. She loves learning about herself and others, supporting the fabulous women in the WIW community, journeying through life with optimism, and laughing so hard she snorts or pees (sometimes both simultaneously). www.womeninspiring.com