The year was 1989 and a 22-year-old woman with an itch to challenge herself embarked on her entrepreneurial journey. That woman was me. I was young, shy, enthusiastic and perhaps even somewhat naïve as to the road ahead of me. There were twists, hairpin turns, frost heaves, speed bumps and detours but 25 years later, I'm celebrating the fact that I not only survived, but thrive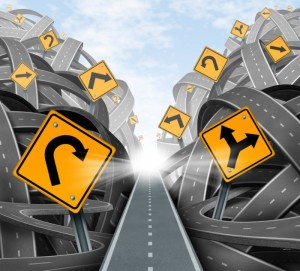 d.
And did I ever learn some lessons along the way!!
Build it and they will come . . .
Probably not the smartest business strategy, but one that has worked for me . . . create a business and then tell others why they need your services! Without a doubt this is a much harder way to start and grow a business, but I believed in what I was offering and that others needed my services. They just didn't know it yet.
---
Know thy self . . .
Okay, I admit it – I silently talk to myself. And during those internal conversations I get to know myself pretty darn well. I know most of my idiosyncrasies and enjoy figuring out the rest as they rear their ugly head or take me by surprise! I know that I have a "leadership personality" in that I like to blaze my own trail, not follow others, and control my destiny (and just about everything around me. I'm not proud of some of that but in many instances, such as my brand, my Type A personality has served me well.) I am in tune with what skills I need to develop. I highly encourage others to ask themselves the hard questions, especially what is and isn't working in their lives, relationships and careers (and what steps can be taken to make it a fulfilling life).
---
Nothing happens, until you take action . . .
This is self-explanatory. When you are an entrepreneur, you will not succeed unless you get your butt in gear. The jobs won't get done until you do it or grow your business enough to hire people to do it. Goals won't be achieved until you set them and take massive action to achieve them. Your marketing won't do itself until you do it or hire a marketing guru. People won't flock to your business just because you announced you are open for business. You can build it, but you need to tell them why they need to come! Stop waiting for it to happen. It isn't going to until you do it.
---
Feel the fear and do it anyway . . .
When I started my business, I was painfully shy. Sometimes I still have moments of shyness and don't really like being the center of attention. There is always something on my "to do list" that causes a knot in my stomach. I let myself feel the fear but know that, as the saying goes, "success is right outside my comfort zone." I push through even though it is difficult, and continuously strive to build up this "muscle" as it is really like a skill one needs to develop. To succeed, you must do the same. Not to mention, you will be proud of yourself!
---
It's all about relationships and success isn't a solo achievement . . .
You cannot become successful by yourself. From family members providing support and assistance to staff, mentors, customers, clients, friends and so on, it takes a village. But you also need to know when to drop some of them if they are holding you back from truly spreading your wings and succeeding. As great as people are, occasionally they get envious of someone else's success. Don't listen to naysayers, dream stealers or anyone who tries to bring you down. Wish them well and move on.
---
Always have a thirst for knowledge . . .
My motto is "end the day smarter than I started." So much of what I have learned has come from observations, conversations and copious amounts of reading and listening. Information is everywhere. When I started my first business, the internet did not exist. Teleseminars, webinars, podcasts, blogs, etc. did not exist. Self-help and personal development books really weren't the rage. Now there is no excuse for not expanding your knowledge. In 15 minutes a day, you can read a chapter in a book or article in Success or Entrepreneur Magazine, listen to a recording of a TED talk, read a blog, watch a YouTube video and get your hands on just about anything else that will spread your mind. Do it and make it part of your daily routine.
---
You are your only competition . . .
I like to have an awareness of what is going on around me, especially with businesses. I like to study the good, bad and ugly ones across all industries. I learn from them and use them for inspiration. I do not, however, pay any attention to what others are doing who are in my line of work. Watching them or concerning myself with them just takes precious time away from building my own business. Think about a marathon – if you are turning to your right or left or even glancing over your shoulder at what others are doing, it keeps you from moving forward with speed and clarity. The same is true with careers and businesses. I am my biggest competitor and I constantly try to "one up" myself.
---
Become a self-management super hero . . .
I have studied my habits and the habits of others, especially as it relates to focus and time management. This is always a work in progress for me and truly something I have to be mindful of each day. Ideas for managing your time could be another blog post (or book), but I will summarize it as: eliminate chaos, set priorities, block out the unnecessary, take charge of your schedule, chunk it down, minimize distractions, focus and don't try to multi-task and get sh*t done! No excuses.
---
Enjoy the journey . . .
Really take in everything that is happening around you. Rather than be upset that you are aging, embrace where you are at because it is pretty awesome to be alive. Be grateful and show it in everything you do. Know that your destiny is in your hands (I know, everyone preaches that, but it is true). You are 100% responsible for your life and rather than be miserable and unsatisfied, do something about it and rather than rushing through life, settle down and take it all in. Enjoy it or change it!
I am so thankful for all that has come my way over the last 25 years and those who influenced me and made me become the person I am today. It has all led me to now and I can't wait to see what's next.
Leslie Sturgeon is an award-winning entrepreneur who is the Founder and Visionary of Women Inspiring Women. WIW is now recognized as the largest organization for women's empowerment, personal development, business resources and networking in New Hampshire.