Partner with Us & Showcase Your Biz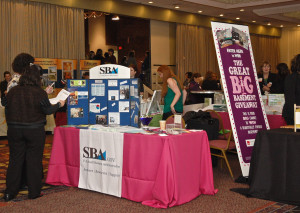 You are invited to partner with one of New England's fastest growing women's networks. Women Inspiring Women is a New Hampshire-based organization that exists to bring women together to connect, grow personally and professionally, discover strategies for life/work balance and develop new business and personal relationships.
WIW regularly communicates with its members and guests in person at events and programs, as well as digitally via an e-newsletter, its Facebook fan page, and by using other social media outlets.
Established and managed by an award-winning and passionate leader, WIW is an organization that continues to grow and attract attention. WIW offers creative and customized sponsorship solutions for companies searching for ways to develop connections with women who are actively pursuing personal and professional growth, starting and growing businesses, and searching for ways to balance the demands of work and family.

Sponsor the Organization
or a Signature Event . . .
Show your support of New England women by sponsoring the organization on a year-round basis or one of their signature events. This is an exclusive way to be involved and get visibility by playing a bigger role in the organization. Highly personalized sponsorship packages can be developed beginning at $750.
Contact us at info@womeninspiring.com or (603) 744-0400 to chat about your goals and objectives.
---

Advertise Your Business . . .
Newsletter Advertising: Our e-newsletter, Inspirations, is a valuable tool containing business insights, inspirational messages, tips for personal and professional development, information on fellow members and upcoming events. Advertising is a great way to put your product or services in front of a highly targeted audience of over 4,500 professional women per issue. The newsletter is also available on line and sent out through social media outlets for more to view. Rates start at $35 per month.
Website Advertising:
The WIW website continues to receive thousands of visits per month. We continuously strive to enhance the site to not only be more visually appealing and user friendly, but contain member information, resources, inspirational messages, business tools and corporate sponsors. We are in the first place spot when searching Google for "Women Inspiring Women." This is incredible placement! Drive this important audience to your website and business by sponsoring the WIW website! Rates start at $100 per month.

---

Exhibit Your Business . . .
Exhibitors have the opportunity to make profitable new business contacts, present products, sell goods or services and reach out to Women Inspiring Women attendees, business owners, professional women, community leaders and decision makers at our women's empowerment, motivational and social events! Rates start at $95. See full details and an event schedule below.

---
A combination of exhibition space, newsletter and website advertising, along with social media posts are available – we just need to learn more about your marketing objectives and budget. Let's talk!

Contact us today to learn more about sponsorship and advertising opportunities.
---
Additional Information
EXHIBITOR DETAILS . . .
This information pertains to our regular daytime or evening events, not the day-long events.
Access to New Hampshire women who are leaders in their businesses and community. 

6' or 8' covered table, as well as possible space for signage or banner. Electricity and wi-fi may be available.

 

To maximize your exposure, exhibitors are encouraged to bring samples, promotional items, brochures and business cards.

 

Exhibitors are asked to provide a small gift for a door prize drawing (i.e., complimentary one-hour consultation, gift certificates or a product from your business).

Gifts do not need to represent your business! Attendee names will be collected by WIW volunteers and door prize winners can be drawn from those names. You will have an opportunity to talk about your business for 30 to 60 seconds while drawing the winner of your gift. If you are uncomfortable speaking in front of the group, we would gladly do it for you!


Space assignments will be made by WIW on a first-come, first-served basis and on space requirements.

 

One complimentary event ticket for the meal and the program is included. If you wish to have additional individuals attending the event, tickets can be purchased for $35.00 per person.




Payment in full is expected at time of reservation either on line or by check or cash.

Shortly after the event, all attendees will receive an email containing your contact information.
SCHEDULE . . .
Subject to change – we will confirm all details in advance with you!

EVENING EVENT
4:00 to 5:00     Exhibitor Set Up
5:30 to 6:30      Networking and Exhibits
6:30 to 8:30      Dinner, Keynote Address, Presentations and Door Prizes
8:30 to 9:00      Networking and Exhibits
9:00 to 9:30      Exhibitor Take Down
LUNCHEON EVENT
11:00 to 11:45     Exhibitor Set Up
11:45 to 12:30     Networking and Exhibits
12:30 to 1:45       Lunch, Keynote Address, Presentations and Door Prizes
1:45 to 2:30         Networking and Exhibits
2:30 to 3:00        Exhibitor Take Down
INVESTMENT:
Members: $95 / Non-Members: $125
UPCOMING EVENTS
Keep checking back for the full calendar of events.

---

Participating in our 2018 NH Conference for Women on Friday, November 2, 2018
in Manchester, NH is the PERFECT way to showcase your business.
There are many opportunities available, so send us an email
at info@womeninspiring.com and find out.